---
Illinois News : Schilling Visits Thomson Correctional Facility
Posted by Ralyn

on 2009/11/16 3:10:00

(

2556 reads

)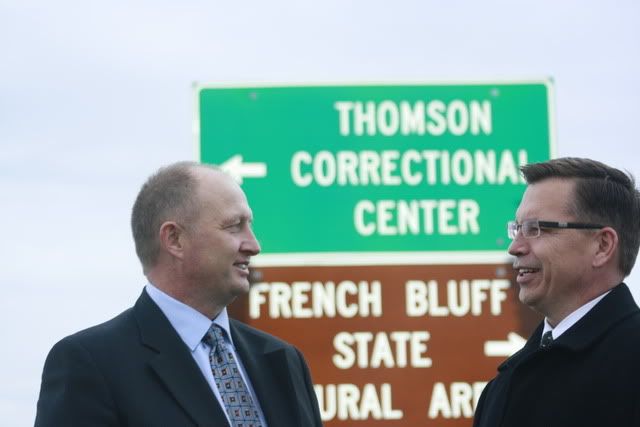 Schilling Visits Thomson Correctional Facility
Says we cannot afford to be short-sighted


EAST MOLINE, IL-- Bobby Schilling, Republican candidate for Congress in the Illinois 17th Congressional District, visited the Thomson Correctional Facility today. Thomson Correctional Facility is under consideration to house Guantanamo Bay detainees. Schilling criticized the proposal, calling it "short-sighted" but also said that he supports filling Thomson with federal criminals, just not Al-Qaida terrorists.

"Our politicians tend to be a little short sighted at times," said Schilling. "That explains why we have a skyrocketing national debt and the highest unemployment rate since President Carter. It is almost as if as soon as someone says the word 'jobs' they will fully support the measure, even if it means bringing Al-Qaeda terrorists within 50 miles of their residents. We can create jobs by bringing federal prisoners here, we don't need to bring Al-Qaida terrorists here in order to create jobs.
Rating: 0.00 (0 votes) - Rate this News - Read More... | 3750 bytes more | Comments?
Illinois News : Proposed tax, increases in Illinois 'keep adding up'
Posted by Ralyn

on 2009/5/27 3:00:00

(

2797 reads

)
Proposed tax, fee increases in Illinois 'keep adding up'
Mike Riopell | Posted: Wednesday, May 27, 2009 4:40 pm

*Only a small fraction of article is posted here with link to full article.

SPRINGFIELD – As Illinois lawmakers and Gov. Pat Quinn bat around a handful of tax and fee increase ideas, a typical family of four could face paying about $200 more every year if all of them are approved.

Clearly, there are a lot of variables.

The most obvious ding to paychecks would be an increase in the state's income tax, which has been touted by Quinn as a way to help rescue the state from financial ruin.

Quinn proposed raising the rate from 3 percent on people to 4.5 percent. Higher deductions would dull the hike on people with lower salaries. And Quinn notes that families of four making less than about $60,000 a year would actually see their taxes go down.

But there's no guarantee lawmakers would go along. Some are hesitant to anger voters, especially in a recession.

"They just keep adding up," said state Rep. Keith Sommer, R-Morton.

The median income for a family of four in Illinois is about $72,400, according to the U.S. Census bureau. According to Quinn's numbers, a similarly typical family of four that made $75,000 would take home about $146 less every year.

The income tax idea remains in a legislative limbo, but lawmakers have already approved tax and fee increases to pay for upgrades to state roads, bridges and buildings. Quinn has yet to sign off on them.

They call for the cost of annual car registrations to go up $20 to $99. A family of four with two cars would be obviously hit up for $40 more a year. Non-yearly fees such as driver's license and vehicle transfer fees would also go up.

Read the rest of the article - Quad City Times
Rating: 0.00 (0 votes) - Rate this News - Comments?
Illinois News : IL Lawmakers considering using employee pension funds
Posted by Ralyn

on 2009/5/26 19:10:00

(

612 reads

)
Illinois sales tax holiday on hiatus
Kurt Erickson | Posted: Tuesday, May 26, 2009 5:35 pm

*Only a small fraction of article is posted here with link to full article.

SPRINGFIELD – Illinois' thirst for money has put the brakes on a sales tax holiday for back-to-school purchases.

In his proposed budget, Gov. Pat Quinn called for dropping state sales tax collections on clothes and other school-related supplies for a 10-day span in August.

But, the idea has gone nowhere in the General Assembly, which is busy this week trying to wrap up its action for the spring by a May 31 deadline.

On Tuesday, a spokeswoman for the governor acknowledged he's abandoned the idea.

"While the governor still believes that a sales tax holiday would help working families, at this point he is focusing on other priorities such as balancing the budget and passing robust ethics reform," spokeswoman Marcelyn Love noted in an email.

Lawmakers also said the state can't afford to give up the estimated $50 million that would be lost if parents were given the sales tax break.

"I don't think its going anywhere because we're scrambling to find additional revenue," said state Sen. John Sullivan, D-Rushville. "Any legislation that would actually take additional revenue away is probably not something that's being given a lot of consideration at this point."

The apparent death of the sales tax holiday comes as legislative leaders met with Quinn Tuesday as part of the on-going negotiations over the state's spending plan.

Read full article - Quad City Times - click here
Rating: 0.00 (0 votes) - Rate this News - Comments?